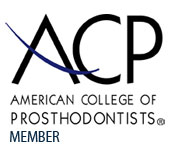 Prosthodontists are dental specialists in the restoration and replacement of teeth. They are experts in facilitating function and improving appearance through the use of such restorative procedures as crowns, bridges, veneers, dentures, dental implants and dental implant supported prostheses.

They are trained to treat the entire mouth, and can provide expert diagnosis and treatment for the most complex cases. If your dental situation requires treatment to multiple teeth or you simply have high aesthetic expectations, you should see a prosthodontist.
Training
In order to become a prosthodontist, a general dentist must be accepted into and complete an additional three-year prosthodontic residency program accredited by the American Dental Association (ADA). This program includes advanced dental training and a residency where each dentist must demonstrate exceptional skill in all forms of prosthodontic restoration before graduating. Prosthodontics is one of nine dental specialties recognized by the ADA.
Expertise and Collaboration
Given their extensive training, prosthodontists are experts in formulating the ideal solution to challenging functional and aesthetic dental problems. This can range from discoloration and jaw/tooth misalignment, to severe tooth loss and decay.
Prosthodontists have been described as the "architects" of dental care. One of their many talents is the ability to build and reconstruct lost or damaged structures in the mouth. Many times they accomplish this in close collaboration with oral surgeons, periodontists, general dentists and other health practitioners.
General Dental Services
A prosthodontist can also provide many of the same services that a general dentist might perform, such as fillings, crowns, bleaching and veneers. This includes routine dental examinations and cleanings.
For More Information
Please visit the American College of Prosthodontists website at www.prosthodontics.org.