Cone Beam CAT Scans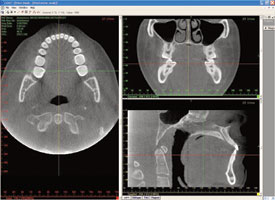 A key to the safety and success of complex dental surgery is advanced radiography. Cone beam digital CAT scanning allows us to take 3-Dimensional, high resolution CAT scans of your facial anatomy. We can then view these images from different angles, take precise measurements, and easily share 3-D data with other doctors.
Cone beam imaging is ideal for patient comfort. It offers an "open-environment" design that reduces anxiety, and images can be taken in as little as 8.5 seconds, limiting discomfort and exposure to radiation.

For more information on cone beam imaging, please visit i-CAT Imaging.
Low Radiation Digital X-Rays
Our office uses DEXIS digital x-ray technology.
Digital X-Rays are taken with very low radiation and have more flexibility in terms of rendition. They are also more convenient when planning treatment among different practitioners.
For more information please visit DexRay.com.